Videos
1987
Stamping Ground

VCF 180008

Enregistré au cours d'un festival de 3 jours en Hollande, en 1970.
Un seul morceau de T.Rex apparait sur cette vidéo : ' By the Light Of The Magical Moon'.
1988
MARC ( The Marc shows )

PMV 041 744-2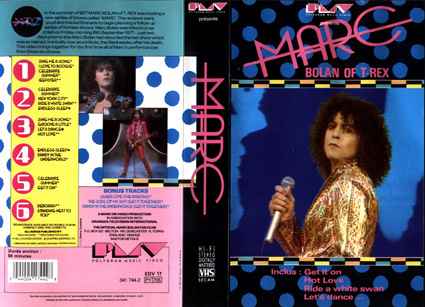 Cette vidéo n'a retenu que les apparitions de T.Rex sur le show de Marc diffusé par Granada durant l'été 77.
show 1 : Sing me a song/I Love to Boogie/Celebrate Summer/Jeepster.
show 2 : Celebrate Summer/New York City/Ride a White Swan/Endless Sleep
show 3 : Sing me a Song/Groove a Little/Let's dance/Hot Love
show 4 : Endless sleep/Dandy in the Underworld
show 5 : Celebrate Summer/Get it on
show 6 : Deborah/Standing next to you ( duo avec D. Bowie )
1990
20th Century Boy
DELTA Video EDV.5 100346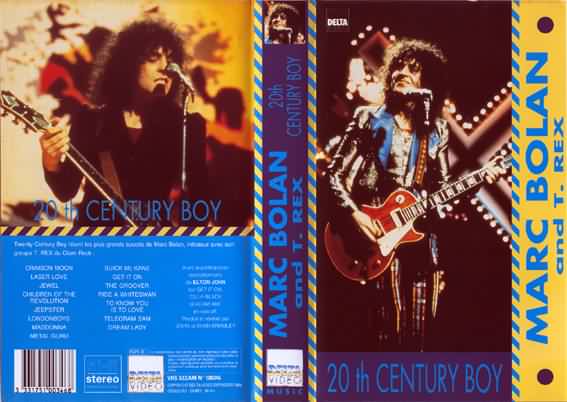 Réédition de la K7 Anglaise de 1984. Même clips videos :
20th Century Boy/Crimson Moon/Laser Love/ Jewel/ Children Of The Revolution/ Jeepster/ London Boys/ Maddonna/ Life's A Gas/ Metal Guru/ Buick Mc Kane/ Get It On / The Groover / Ride A White Swan/ To Know You Is To Love You / Telegram Sam/ Dreamy Lady/ The Soul Of My Suit.
1991
Born To Boogie

PMI MVN 99 1267 3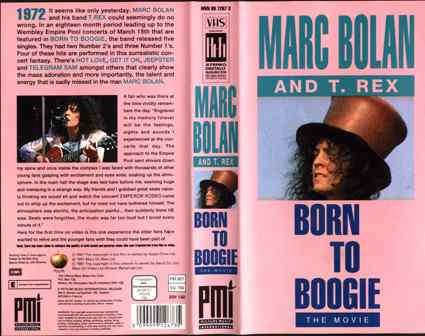 Filmé par l'ancien Beatles Ringo Starr, ce documentaire montre T.Rex, à l'apogée de la T.Rexmania, en Angleterre et en 1972.
Voir la même page en Anglais
Menu Principal , Disques , Concerts , Télés , Enregistrements , Films & Vidéos , Presse Musicale , Reprises & Hommages , Liens
---
© Pierre Champion 1999-2004