Videos
1987
Stamping Ground

VCF 180008

T.Rex appeared on this 3 days festival in Holland, during 1970.
'By the Light Of The Magical Moon' is the track that remains for this movie.
1988
MARC ( The Marc shows )

PMV 041 744-2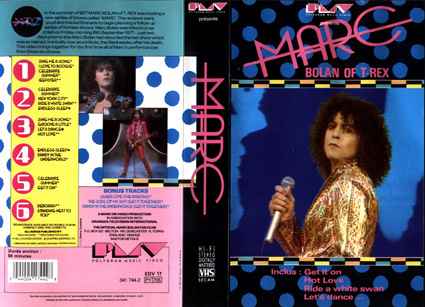 This tape shows only Marc's appearances on his own '77 show for Granada tv.
show 1 : Sing me a song/I Love to Boogie/Celebrate Summer/Jeepster.
show 2 : Celebrate Summer/New York City/Ride a White Swan/Endless Sleep
show 3 : Sing me a Song/Groove a Little/Let's dance/Hot Love
show 4 : Endless sleep/Dandy in the Underworld
show 5 : Celebrate Summer/Get it on
show 6 : Deborah/Standing next to you ( duo with D. Bowie )
1990
20th Century Boy
DELTA Video EDV.5 100346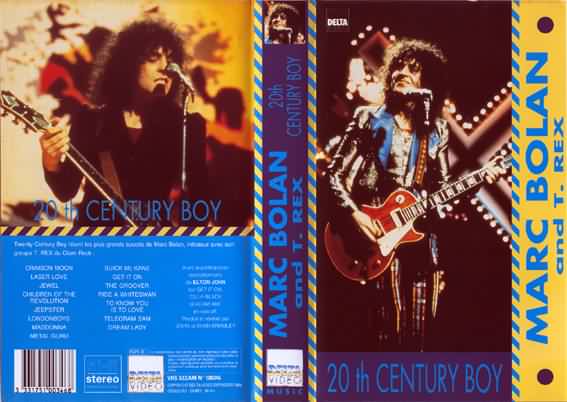 Reedition of the English video from 1984. Same video clips :
20th Century Boy/Crimson Moon/Laser Love/ Jewel/ Children Of The Revolution/ Jeepster/ London Boys/ Maddonna/ Life's A Gas/ Metal Guru/ Buick Mc Kane/ Get It On / The Groover / Ride A White Swan/ To Know You Is To Love You / Telegram Sam/ Dreamy Lady/ The Soul Of My Suit.
1991
Born To Boogie

PMI MVN 99 1267 3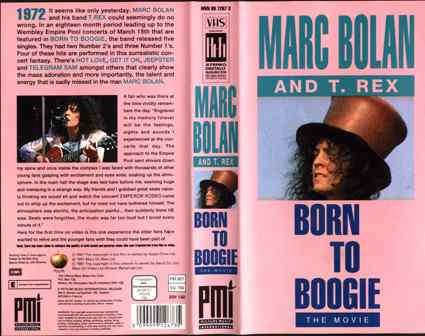 Filmed by former Beatles Ringo Starr, this documentary shows T.Rex during the peak of the T.Rexmania in England, back in 1972.
see the same page in French
main menu , records , concerts , TV appearances , Recordings , Films & Videos , Press reviews & pictures , Covers & Tributes , Useful Links
---
© Pierre Champion 1999-2004