1969
Tous En Scène !
Recorded at 'L'Antenne Culturelle', Kremlin Bicêtre during late October, the show was broadcated on 27th june 1969, channel 2.
Two songs were performed : Stacey Grove with Marc and Steve Took miming to the soundtrack, and Salamanda Palaganda performed live.
This show has been re-screened on a private cable channel : Canal Jimmy
1971
Point Chaud
Recorded during the 1970 Xmas week at Le Rock and Roll Circus (now the Jane Club) this clip of 'Ride A White Swan' was broadcasted on 3 occasions, on the first channel, as 'Pop Match' versus les Rotations with 'Ratata'.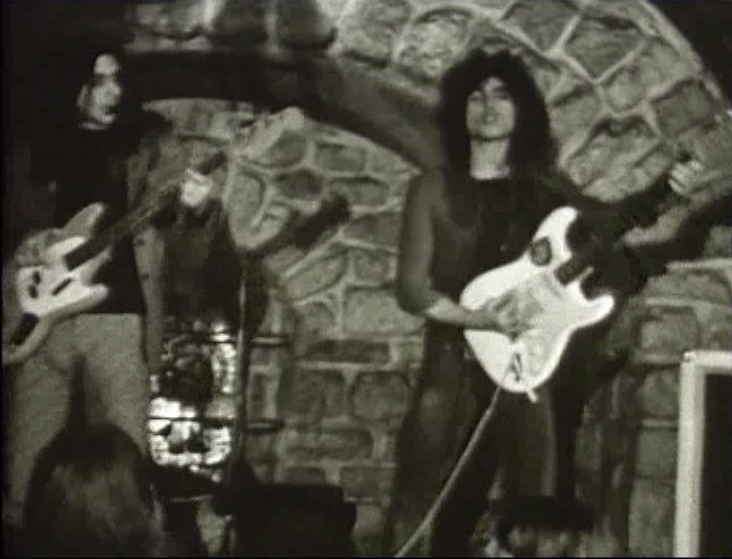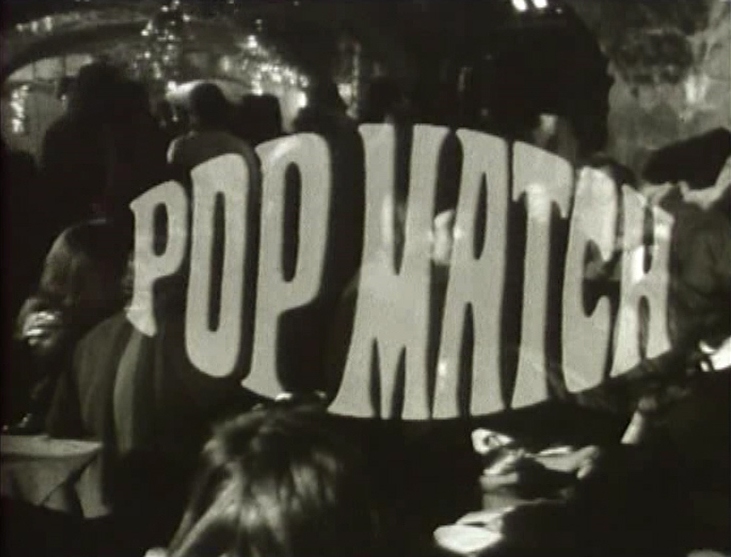 | | | |
| --- | --- | --- |
| broadcasted on 30th/01/1971 5:25 pm | Broadcasrted on 13th february 1971 5:35 pm | Broadcasted on 20th february 1971 5:35 pm |
| | | |
This clip appears on 2006 T.Rex on TV DVD (Demon Vision).

Stop Pop
Rock On Television Encyclopedia mentions this program as broadcated on channel 2 on 13th february 1971 (source Tele 7 Jours). Other sources rather mention 20th february 1971 février (local press). Both mention 6:30 pm and colour broadcasting.
Programs announce a concert. Stop Pop was a coproduction ORTF/RTB that used to broadcast concerts filmed by Belgian TV RTB, for their own TV program Pop Shop.
| | |
| --- | --- |
| | |
| Télé 7 Jours 13th/02/1971 | Ouest France 20th/02/1971 |
Pop Deux
Recorded at ' La Taverne de L'Olympia' on the 28th of January , the show was broadcasted on 27th February1971 6:20 pm on channel 2..
T.Rex Pop2 Taverne de l'Olympia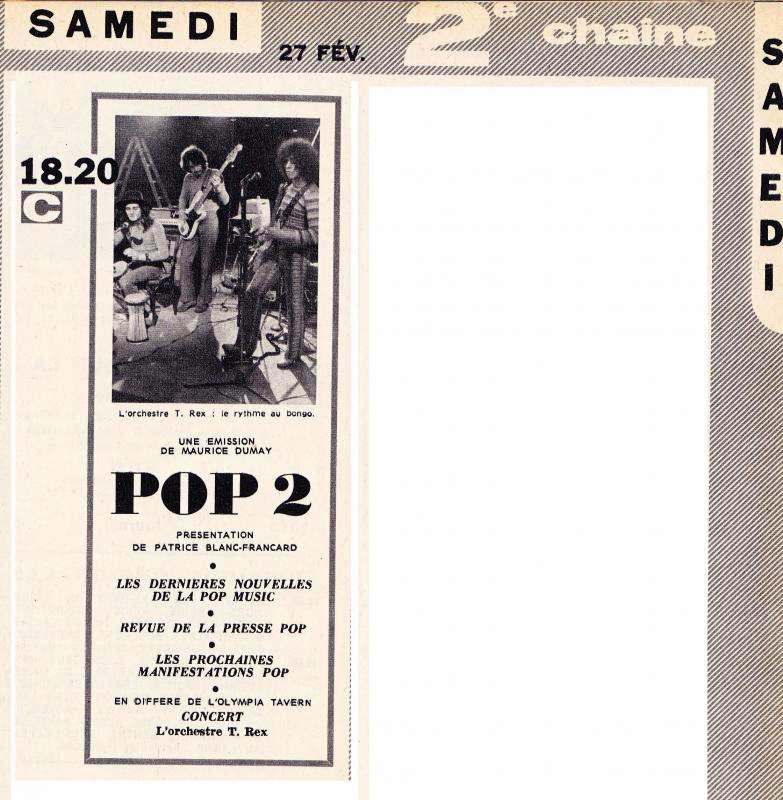 source Tele Poche / Tele 7 Jours ( Rock On Television Encyclopedia )
1972
Rock en Stock
Recorded at 'Le Château d'Hérouville on February the 3rd february 1972, the show consisted of T.Rex playing live in the studio. Broadcasted in B&W, the band played 'Telegram Sam', 'Cadilac', Hot Love' and 'Jeepster'.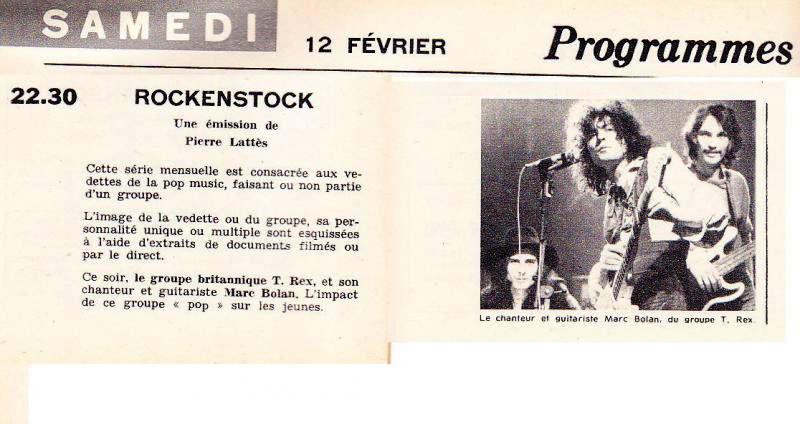 source Tele 7 Jours ( Rock On Television Encyclopedia )
The show was broadcasted on channel 1 on February the 12th.
1973
Devine Qui Est Derrière La Porte ?
On Saturday 10th of March, just prior to the forthcoming concert at The Olympia ( see concerts ) T.Rex landed at Le Bourget Airport and appeared on that saturday evening show.
The whole band was there : Marc, shaking his boa, Micky, Steve and Bill Legend. They mimed to 'Children Of The Revolution'

Children Of The Revolution from xchannel
and ' 20th Century Boy'.

20th Century Boy from xchannel
The appearance was announced in the major weekly tv program paper of that time : 'Tele 7 jours'.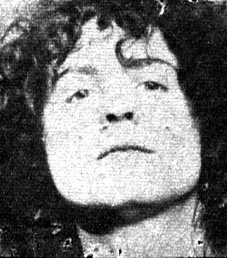 The tele 7 jours picture.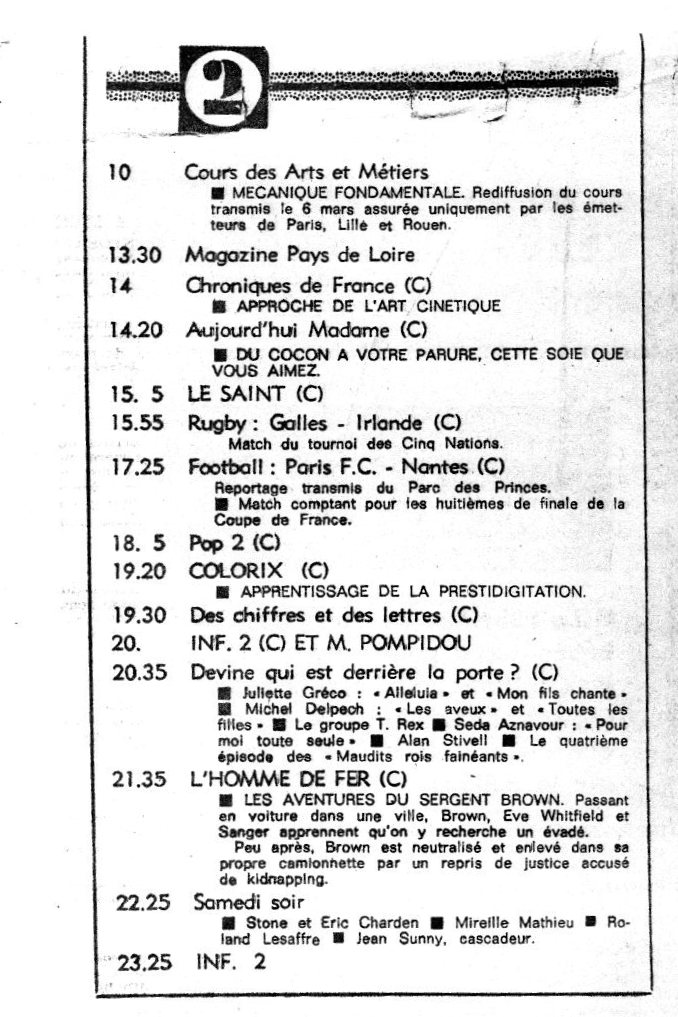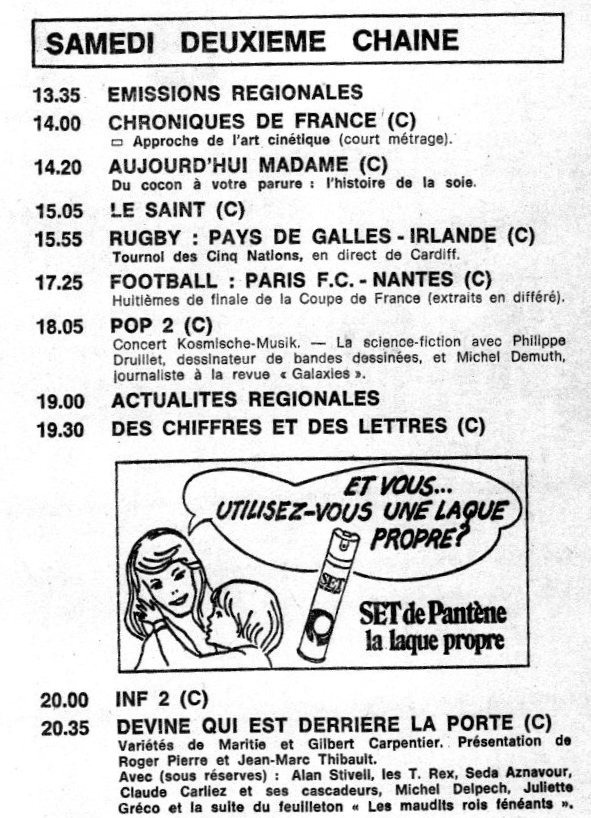 Presse Ocean 10th-11th march 1973 / Ouest France 10th-11th march 1973 (local daily press)
1976
La Nuit De Noël De Graziella
On 24th december T.Rex appeared on the Xmas special show on channel 2.
According to Bernard Pavelek, a french fan who has his on web site and who chat with Herbie Flowers after the '77 Parisian gig, the whole band moved to Paris for that program.
Due to strikes among tv staff Marc only was allowed to appear and this lead the band to stay in London for the next show in february '77.
Finally when the soundtrack started a deep cloud of smoke was over the scene. After a while that seemed eternity Marc appeared alone.
He sang over a pre-recorded soundtrack for 'I Love To Boogie' (small extract : 72 kb) and 'Laser Love'. T.Rex was then announced to come back later on that evening. I suppose that 2 more songs could have been broadcasted but have no confirmation of this.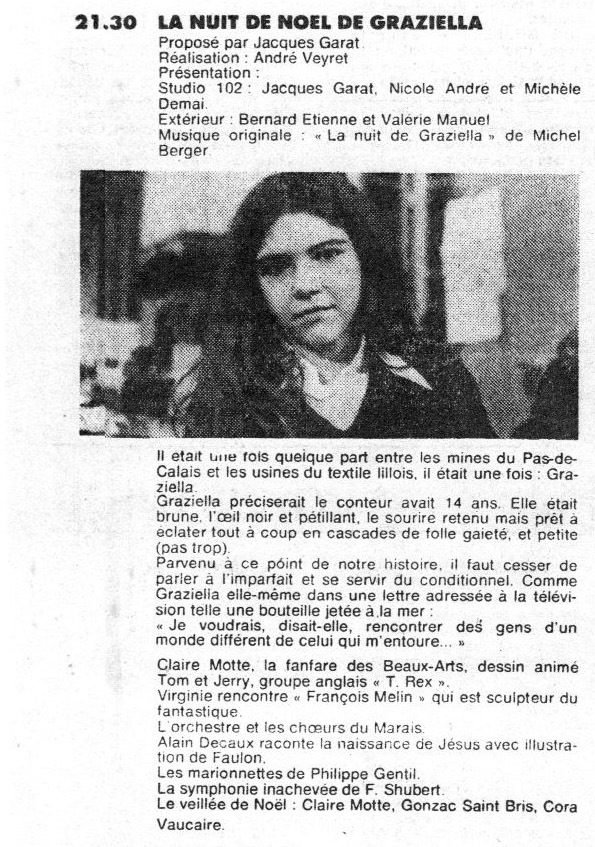 1977
1 sur 5
On Wednesday the 2cd of February Marc appeared alone on channel 1, during the afternoon.
Un sur Cinq 02/02/1977 Marc Bolan French TV... par xchannel
Miming to 'Telegram Sam' and the 'I Love To Boogie' he was interviewed by Bernard GUILLEMIN about the forthcoming french tour and the punk movement. Marc Bolan said a few words in French on that occasion:
BG : Telegram Sam avec T.Rex alias Marc Bolan, je crois que je vais devoir tester un peu mes connaissances en Anglais – do you speak French ?
MB : hmm very badly, very bad
BG : So, T.Rex, you are in France now for a tour, a big tour, c'est-à-dire que vous allez faire une tournée, do you know the town ?
MB : No, but we're playing everywhere, we play in fact Paris, next weekend, and we'll try to take in as many places…
BG : Je sais moi en tout cas que allez passer à Bordeaux, Toulouse et dans beaucoup plus de villes Françaises avec tout le groupe et je sais aussi que, il faut que je pose une question, c'est une question presque de la part de Freddy Hausser, he wants to know what's to be punk ? Il voudrait savoir qu'est-ce c'est d'être punk ? because it's very fashion now, c'est très à la mode, en Angleterre, en Amérique, d'être punk, qu'est-ce que c'est ?
MB : well punk is kind of decadent, street Rock'n'Roll, you know, a lot of English punk groups wear leather…
BG : C'est-à-dire décadent, le vieux Rock'n'Roll, le Rock'n'Roll de la rue…
MB : It's being loose, free, you know they spit a lot punks …
BG : C'est-à-dire être vraiment un peu, se moquer un peu de tout, and to be dressed than what ? être habillé comment ?
MB : Well the basic thing about punk rockers is if you have rips in your clothes, you put safety pins through them
BG : Ah yeah, and black leather?
MB : Black leather yeah,
BG : Blouson de cuir, des chaines etc..
MB : And red shirts (lol)
BG : Is it so fashion in the States, in England to be very sophisticated? To have make-up? Est-ce qu'il est toujours aussi à la mode d'être maquillé for a singer, pour un chanteur ?
MB : Not so much anymore, I think people will be very free now, you know, we're being very free I don't want to …
BG : Do you think that you'll be free?
MB : Yes. On this tour
BG : Et bien pour être libre complètement je voudrais que tu nous dises une phrase en Français quand même, do you think err, can you speak one word in French ?
MB : Err Je t'aime ! hahaha
BG : Oui ! it's too much !
BG : And do you think err that French…
MB : C'est si bon! C'est si bon! C'est si bon!
BG : Ok ben puisque c'est si bon, en tout cas c'est une nouvelle chanson de T.Rex, en direct pour Un sur Cinq, I Love To Boogie
MB : Thank you !
Unconfirmed
On the 14th February Marc and Gloria would have recorded 'to Know You Is To Love You' for the french tv. The show would have been broadcasted on 24th February and 2cd March
Unconfirmed
On March the 16th Marc and Gloria are said to have been in Paris and recorded a spot for french tv. No further detail.
Unconfirmed
On 6th April Marc was in Paris probably for a tv recording. No further detail.
Posthumous
Canal Jimmy
Philippe Manoeuvre who's also Chief redactor of 'Rock et Folk' broadcasted T.Rex on several occasions
Tous En Scène has been re-screened on that channel.
Devine qui est derrière la porte was re-screened too
1993
Born To Boogie was brodcasted several times during the week of 29th March 1993.
Extracts of the original 'Get it On' and 'Children Of The Revolution' have been shown among extracts of their cover versions by Power Station and Violent Femmes.
2001
From 01/06th onwards, Canal Jimmy has broadcasted the

programs
See the web pages Canal Jimmy did for that event : first week, second week
Institut National de L'Audiovisuel INA :
It's a real pity when one knows that all these appearances are surely kept at INA and nobody ever tried to edit them as videos. How to contact INA :
Institut National de l'Audiovisuel, 83 rue patay, 75013 Paris
web site : http://www.ina.fr/