ANTOINE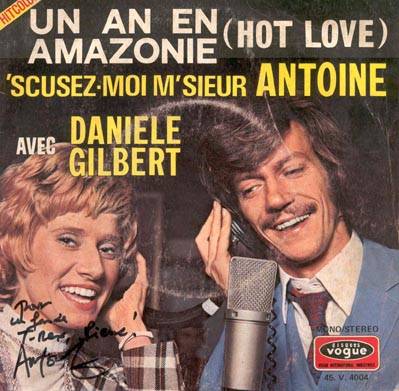 Antoine is French singer who went famous in the late sixties. He covered 'Hot love' in 1971
Antoine a repris 'Hot Love' en 1971
On 9th december 2000, he was in Nantes, dedicating video tapes in a giant departement store. I decided to interview him.
Le 9 décembre dernier, il était à Nantes pour une séance de dédicaces dans une grande surface. J'ai décidé de l'interviewer.
He, very kindly, signed my copy of his single.
Il m'a gentiment dédicacé mon 45t.
Then he answered my questions : 'Why did you record 'Hot Love' and did you release your single prior T.Rex's release of the original or after?'
He says, in this video, that he was responsible for the idea of recording the song because he loved it. He asked a famous French writer ( Pierre Delanoe ) to write French lyrics and his version came later than T.Rex's but T.Rex was not famous in france then.
Merci à Bernard Pavelek pour le transfert en Real Player
Thanks to Bernard Pavelek for transfering to Real Player
Menu Principal , Disques , Concerts , Télés , Enregistrements , Films & Vidéos , Presse Musicale , Reprises & Hommages , Liens
main menu , records , concerts , TV appearances , Recordings , Films & Videos , Press reviews & pictures , Covers & Tributes , Useful Links
---
© Pierre Champion 2001