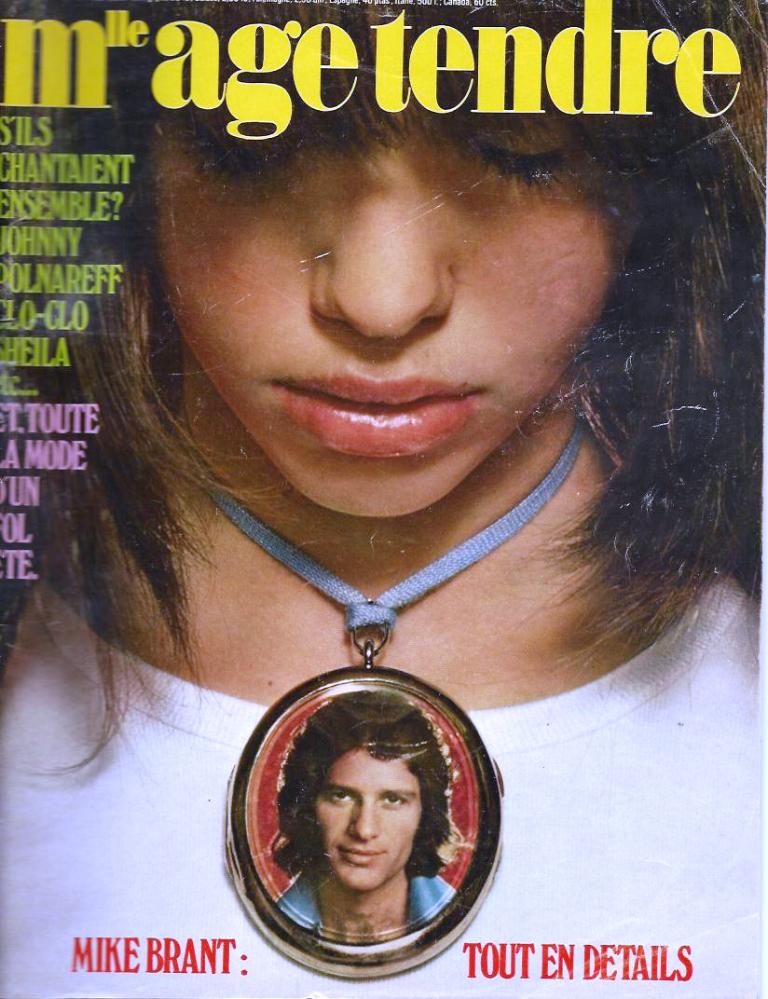 Mademoiselle Age Tendre Mensuel N°102 Mai 1973 (monthly, May 1973, issue #102)
T.Rex achieves great triumph at the Olympia
4 years ago, Marc Bolan, who was playing music with his friend Mickey Finn, under the name of Tyrannosaurus Rex, was known only of the underground scene.
He shortened their name to T.Rex and turn composing and singing talents to rock and roll. Today, Marc Bolan is the new idol of the anglo-saxon youth, and all his records from 'Ride a White Swan' to '20th Century Boy' are huge success.
Recently, T.Rex played in Paris where the youg audience of the Olympia, granted them with a tremendous applause.
Happy musician, seductive Marc is also a reknown writer. He wrote several books, among which, an interesting sci-fi novel 'The Children Of Rarn'.
He believes, along with his wife June, in the supernatural, and particularly in reincarnation. Once he starts talking about this he never shutsup.

Mademoiselle Age Tendre Mensuel N°108 Novembre 1973 (monthly, November 1973, issue #108)
How to Make up your boy friend :
If he likes Marc Bolan's face he will have to accept that you apply on him a clear foundation cream.
He'll be very surprised by his smooth complexion!
Then, thanks to two different iridescent greasepaints, one blue, one grey, eyeshadow his eyelids.
Finish your masterpiece by drawing a line, with a brown pencil, under his lower eyeslashes, and paint his lips in beige-pink.
Move one step backward and look carefully.
What do you think of your make-up talents?
Isn't he gorgeous?
For this make-up, all in softness and delicacy, your friend will have to be close-shaven, especially if his beard is dark.