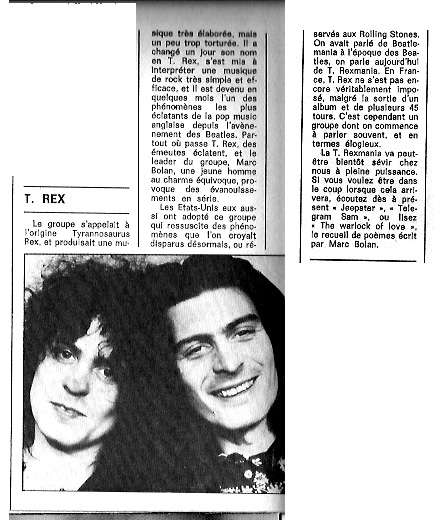 They were initially known as Tyrannosaurus Rex. Their music was sophisticated, maybe a little too much. They shortened their name to T.Rex and started to play more simple, raunchy music. Within a few months, they became the most appealing band since the rise of the Beatles.
Each one of their moves is followed by riots, and their leader, Marc Bolan, a young man of ambiguous charms, is causing fainting by the dozen.
The USA as well has adopted the band who have given a second life to events that we believed were only possible with the Rolling Stones. We once talked of Beatlemania; now it's time for T.Rexmania.
In France their career hasn't really started yet, despite the release of an album and a few singles. But their name is quoted more and more often and in glowing terms.
T.Rexmania will perhaps spread here soon in full gear. If you want to be 'in' when it happens, then listen now to Jeepster and Telegram Sam or read Marc Bolan's poetry book, The Warlock Of Love.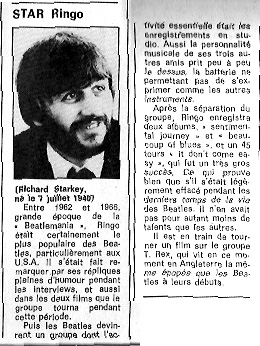 Between 1962 and 1965 at the peak of Beatlemania, Ringo was certainly the most popular Beatle, especially in the USA. His brilliant humour when interviewed, and his parts in the two Beatles movies during this time were the cause of his success.
Then the Beatles changed and their activities, mainly recording in studios, did not allow him to shine like the other Beatles, drumming being rather restrictive compared to the possibilities of other instruments.
After the Beatles split, Ringo recorded two albums, Sentimental Journey and Beaucoups of Blues and a single, It don't come Easy, the latter being a huge success. This shows evidence that despite being behind the three other Beatles during their last years, he was nonetheless as talented at them at least.
He is currently filming the band T.Rex who are, at the moment, as hot as the Beatles when they started.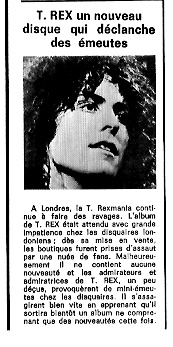 T.Rex : a new record causes riots !
In London, T.Rexmania still reigns. Their last album was eagerly awaited in London's records shops. As soon as it was released, hordes of fans assailed them.Sadly this new record had only old songs and T.Rex fans, quite disappointed, started mini-riots in the record shops.
They soon kept quiet when they were told a new album was about to be released with only new songs this time.