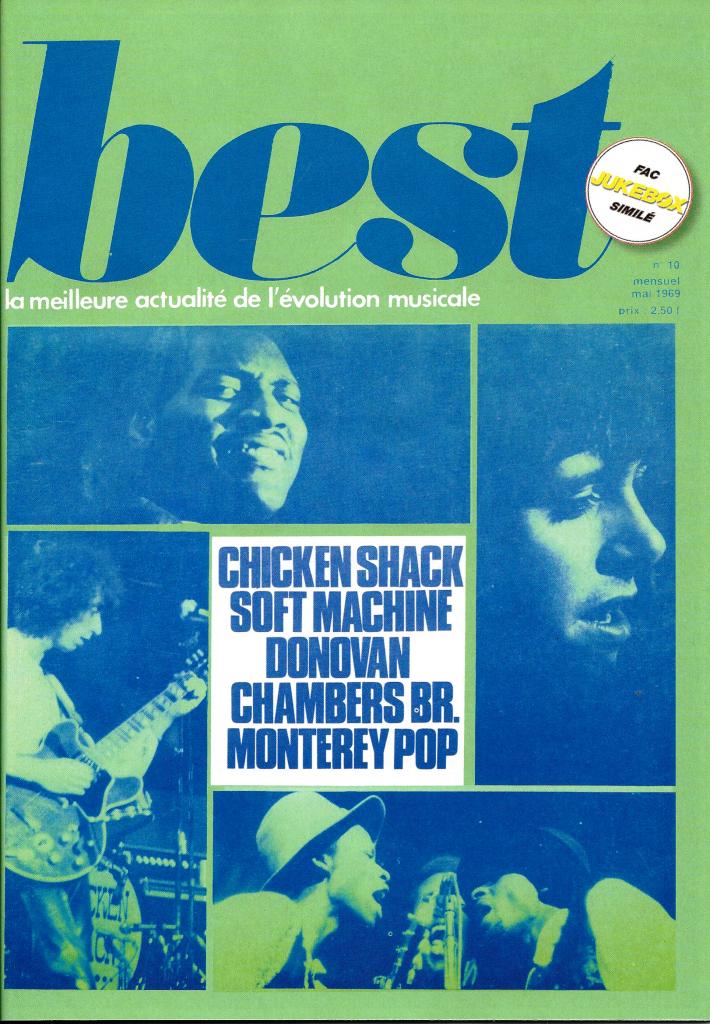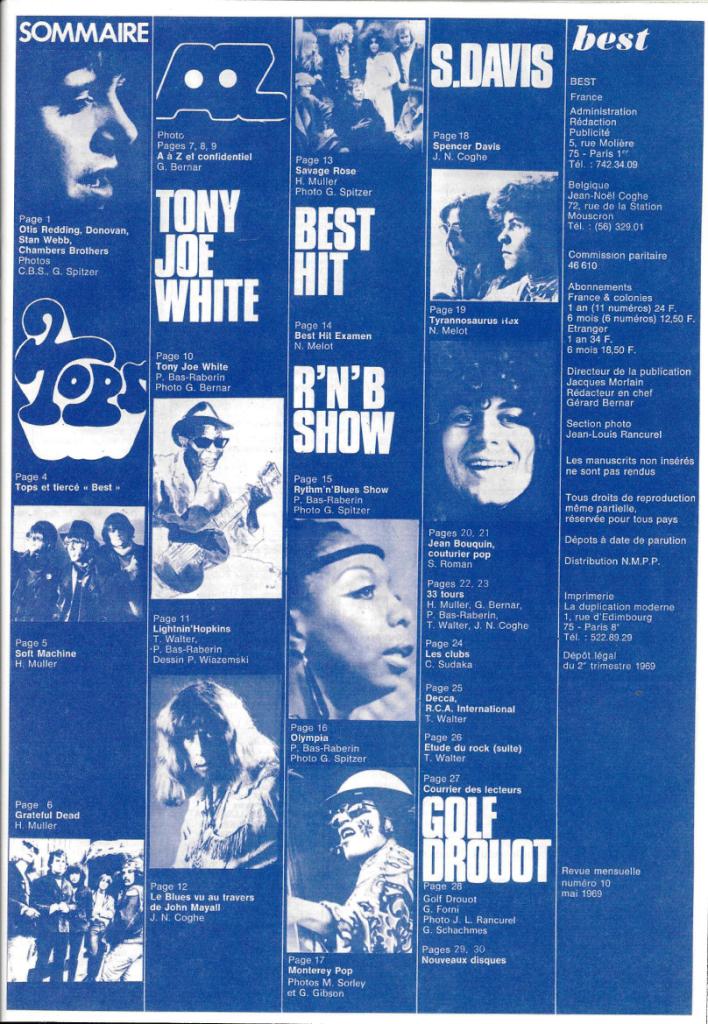 Marc Bolan of Tyrannosaurus Rex is probably the most honest man I've ever met. Nonetheless he was 20 minutes late at our appointment ! The reason why ? "I just finished a photo shoot with Steve Took (the second Rex) and found myself delayed by traffic jams. But I'm desperate to make amends. "Of course, I did not think twice and jumped at the chance to" stalk " him with my questions.

"Marc, Tyrannosaurus Rex is a strange name for a band. Who had the idea?

I chose it myself. Tyrannosaurus is a prehistoric animal. It was two years ago, when I saw a film about animals, this monster really surprised me. I thought this might be a good idea for a band name.
- Tell me about your band?
- At the beginning of last year I was part of John's Children. I left after the recording of "Desdemona" and Steve joined me. We want to be considered as a band and not as just a duo.
Charities hold a very important place in our career. More than once, we are played for free at Hyde Park. So far, apart from numerous tours in England, we have only played in the United States.

- How and why did you come to make records?

- I write poetry since childhood. From poetry to records there is only one step. And we record our songs because we love to sing but we're absolutely not concerned with other aspects of the "Pop business". Nothing interests me apart composing.
- And where do you get your ideas from?
- The Rock and Roll from its origins, it started in 1958 is a very big influence on me. I love all kinds of music as long as it is good music. I attach importance to what I do and the words I write mean something. My songs are poems and, of course, we are never brodcasted.
- Why?
- Because we are not commercial. If you compare our music to an image, you will find that it is a reflection of ourselves. We love the truth and can not bear to be presented in a false light. Therefore we enjoy meeting the people who attend our concerts and chat with them. Because my songs have a deeper meaning, those who buy our records are smart and pay particular attention to the words and not just the rhythm. Our audience is between 18 and 25 years and includes many students.
- What do you play to these students?
- Before a concert we never know exactly what we're going to play. It all depends on the atmosphere. I sing, play guitar and organ. Steve plays drums. He has all kinds of percussions, bongos and even a pixiephone. We play concerts. For tour organizers, it is difficult if not impossible to find someone to share the stage with us.
- So how do you do?
- If we have a first part we rely on friends such as David Bowie, John Peel and a mime.
-John Peel?
- John is the only person to play our LP on his Top Gear show.
- What LP?
- "Prophets, Seers and Sages, the Angels of the Ages". It includes 14 original songs. The next album 'Unicorn', will be released in may during our tour of the United States.
- Why are you so fond of playing in America?

- In England, the group acquired a certain reputation and the market is saturated. So we look to the United States.
A 20 days tour in England, several TV appearances in Scandinavia and perhaps also on the mainland are also planned.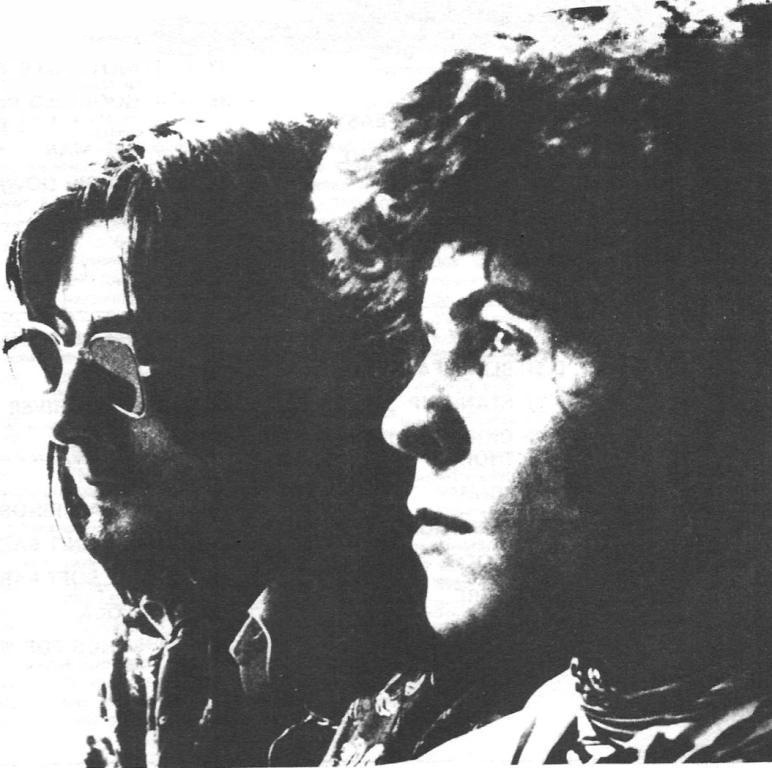 - You seem particularly busy. Do you find time for leisure?

- Of course. I spend a lot of time reading and writing poetry.
My first book "The Warlock of Love," has just been released and includes 70 pages. I also listen to records.
- What sort?
- The Beatles ... Beach Boys, Country Joe and the Fish.
- And Steve?
- He prefers Pink Floyd but mostly spends his time buying clothes. He's so young.
Ah?
- Yes, he is 19 years old
- How about you?
- 21 Do you know my ambition?
'No?
- Try out each year to become a little smarter and make people happy around me.
- Do you want to make me happy?
- Of course!
- I would like you to write a poem for me. "
He took my pen and wrote.
..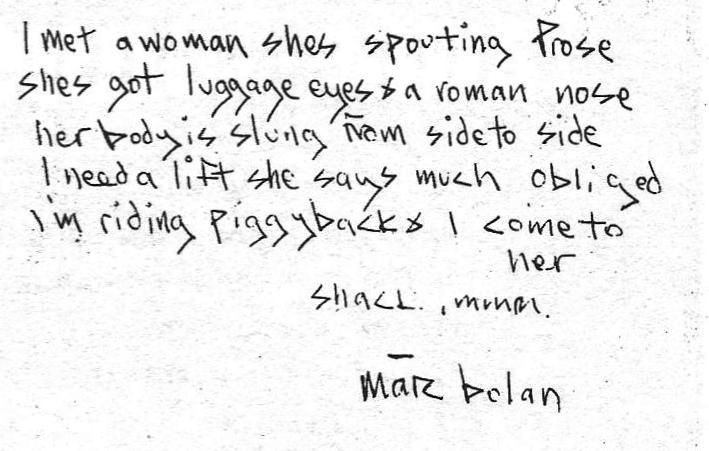 "Here. For readers of "Best". These are the first four lines of "One Inch Rock"
Marc then leaves. A big smile on his face surrounded by black curls. He carries with him a world dominated by poetry, his world.


Nickie Melot

Fac simile of Best 10 has been reprinted in Best Of Best (ISBN 9782859208332 ℗2010) and Jukebox magazine issues 331 and 333 , may 2014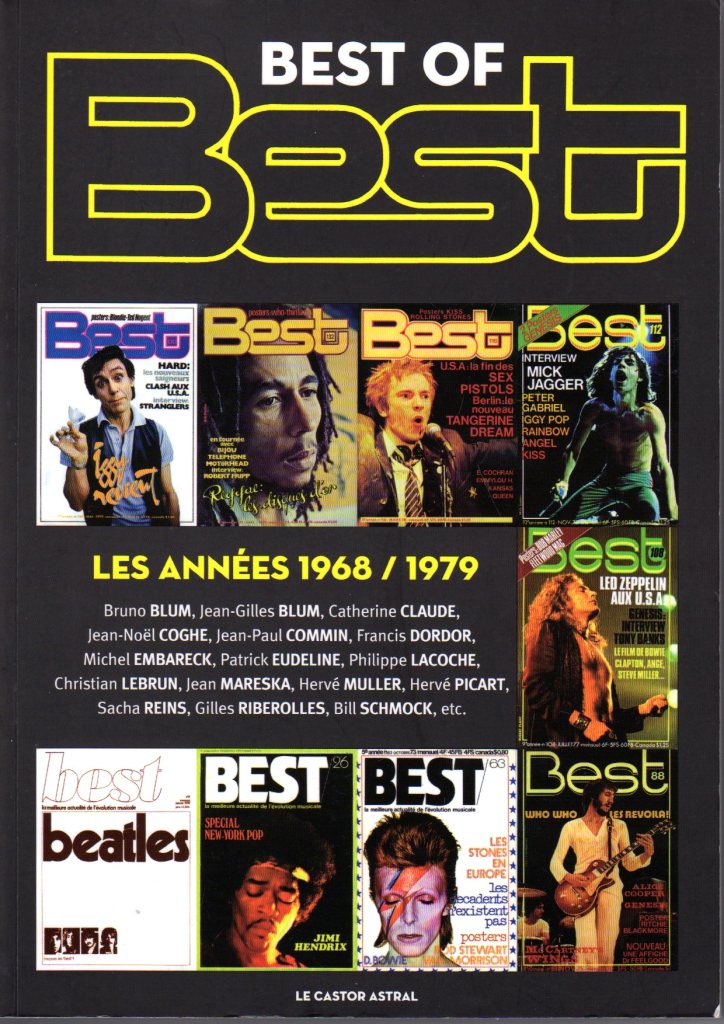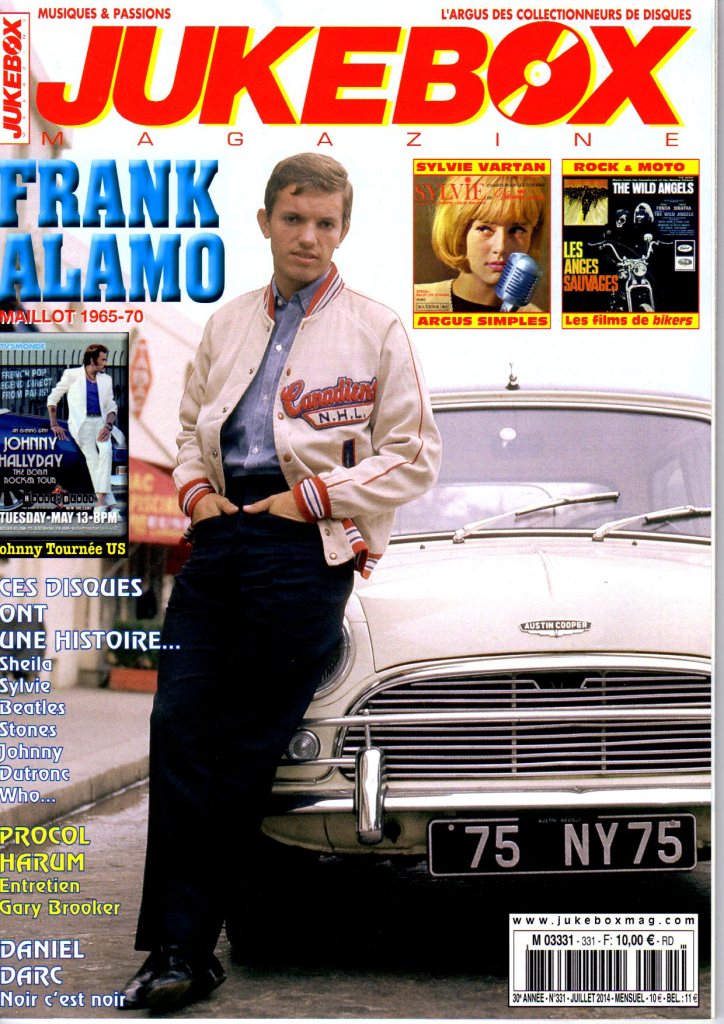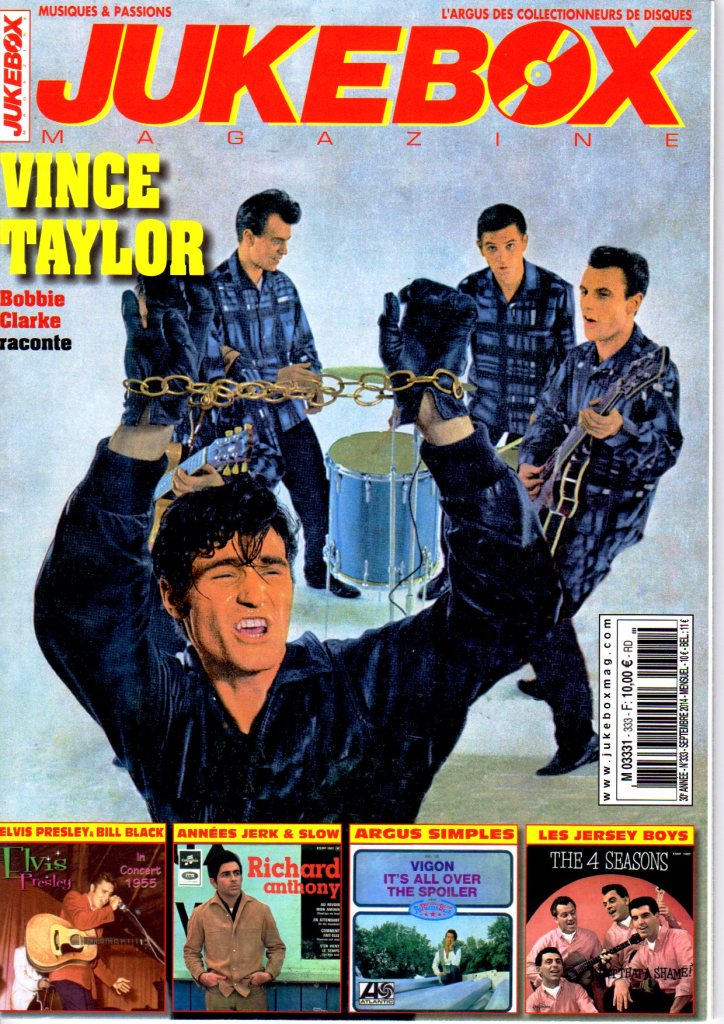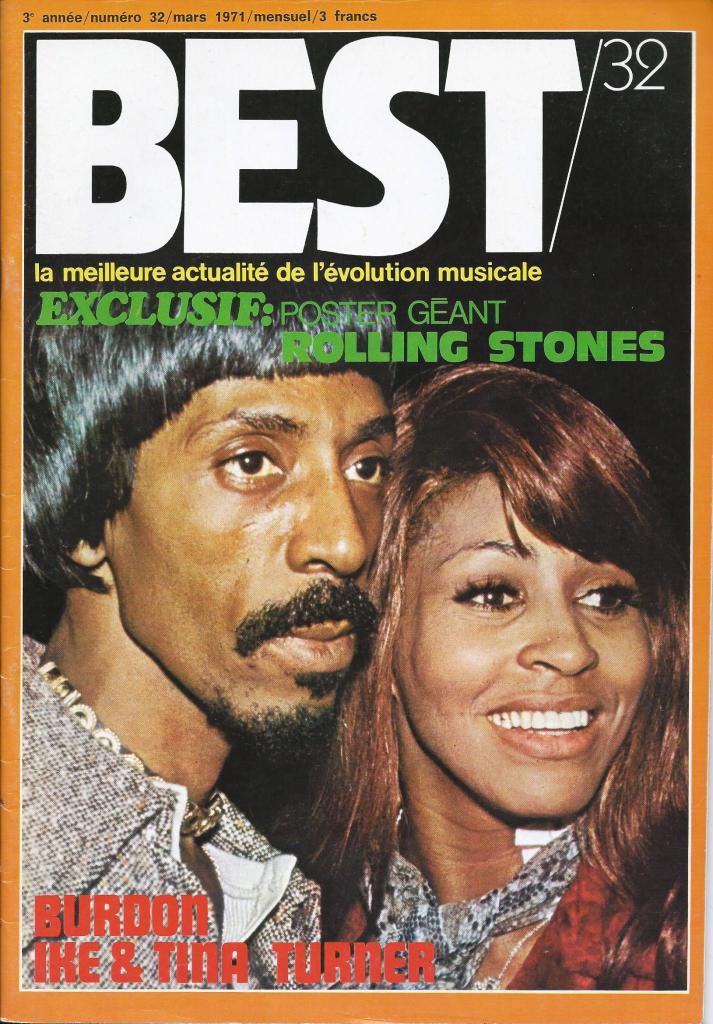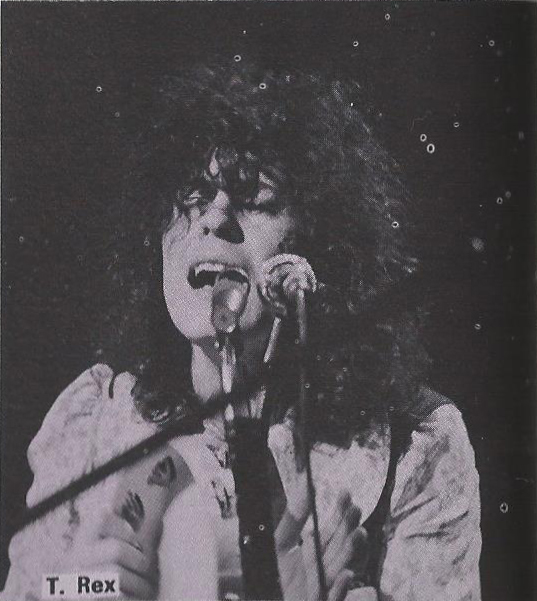 Pierre Jahiel (Best magazine): Are you happy to be in France?
T. Rex: - Yes, but it's only for a TV recording. By the way, it's a shame, we would have liked to give a real concert. But as nobody asked us...
Best Mag.: - Tell me about your last album, T.Rex?
T. R.: - Well, at first I was afraid it would be a huge flop. I mean I was uncertain that this album was very representative of our music and I was afraid that people could misunderstand us. Finally, slowly, I realized it was just the opposite, and I'm now sure we could not have done better. I do not mean that it is of extraordinary musical quality, but at least it is relevant of who we are...
You know, everyone has something special; the whole thing is to find how to show it. Personally, I've been trying for two years to show the audience I am someone special, and I can tell it's not easy. Nor should we fall into the opposite excess, in exhibitionism. That's why I love Lennon's album. Because, all his weaknesses, all his problems, and his ambitions are present, musically translated. I'm no one to judge the album; I'm just telling you that this kind of thing is deeply acting on me.
Best Mag.: - Who else do you like apart from Lennon?
T. R.: - I love Clapton; Hendrix. In fact, I do not have very specific tastes. I listen to anything, if it's good I stay, if it's bad I leave. I do not have a favorite sound. For me, it's a matter of emotions. There are very good guitar players like McLaughlin or Coryell, who can do anything they want with a guitar, without touching me, inside, for a second. On the other hand, when I listen to a record that reaches me, then I really feel like learning something, you understand? And nothing can replace that. Jazz is perhaps very good, but I do not care. I like Miles Davis, but I will not buy his records.
Best Mag.: - But you never listen to a record for your pleasure only?
T. R.: - Off course yes, but my pleasure is learning, that's all. I do not have the material time to do things that do not bring me anything. Now, there is nothing in jazz that I can pull and put in my head and use it. From the emotional point of view, jazzmen are strangers; extraterrestrials that go far beyond me. I'm not prepared yet. When I say learn; I am not talking about new techniques, new sounds that I can imitate. Alvin Lee could play millions of notes for twenty minutes while drinking his coffee, it might be a performance, but it would definitely not reach me. Every time I listen to him, I feel like I'm hearing an accelerated tape. On the other hand, an 8-year-old kid who touches a guitar for the first time can totally get me a kick. Anyway, Alvin Lee is famous because he is beautiful. This is what it takes, nowadays, to be successful: being beautiful and working properly. I do not mean by that that I am better than he is, far from it; but today there are so many "honest" guitarists that the only way to become the leader of the pack is to use external elements: beauty, stage act, and so on.
Finally, it is unfortunate for him to be so beautiful, because people love him for his face, whereas he is a good guitarist: he does very well what he wants to do and believe me everyone can't tell the same.
Best Mag.: -: - But then, what defines a very good guitarist, for you?
T. R.: - A real good guitarist is one who knows exactly what he is going to play before taking his guitar, without having carefully prepared it, without anyone telling him what to do.
Best Mag.: - So, can you name one for me?
T. R.: - I say Hendrix, right away. You certainly know "Are You Experienced"? From his first LP, Hendrix has reached true perfection and has never stopped since. He was a guy who could work five weeks on a solo, and then drew the five notes that were the most important to him, and record them. Well, in five notes, he managed to say what others can not yet express in a double album.
One should not be forced to listen to an hour of mediocre music for thirty seconds of perfection, thirty seconds of total expression. Listen to "All Along The Watchtower" and you will understand what I mean.
During the three minutes of that recording, not a note is in excess, each sound has the exact meaning that his author meant.

Best Mag.: - At the beginning, you were only two, why have you changed?
T. R.: - We added a bass player to give a little more wideness to our music, to increase our possibilities. On the last LP we used a full orchestra, violin, etc. It is for the same purpose, but also to change a bit. At first I was not playing an electric guitar, now I play it, but that does not mean it's definitive.
Best Mag.: Would you like to play on stage with a full orchestra? "
T. R.- Yes, but not right away. In a year or two maybe. I want the public to know us well as we are now, so they can accept more easily the adding of an orchestra. In any case, it would only be before a very large audience.
Best Mag.: Are you tempted by touring the U.S.A.?
T.R.: - Not only are we tempted, but, to be honest, we're planning to go there around next March. It will not be our first time, we've already toured there. America is a country that many people do not like, I do not understand why. In any case, youth is everywhere the same; and violence is as common in France as in Great Britain or in the United States (up to a point, of course).
There has been a lot of hype about Altamont, but what happened there is quite common today.
It's unfortunate, I agree, but we can't do absolutely nothing, it happens anyway, and all the publicity that is made about this, makes no sense. Hendrix, too, should not have died, and yet he is dead...
Interview by Pierre JAHIEL.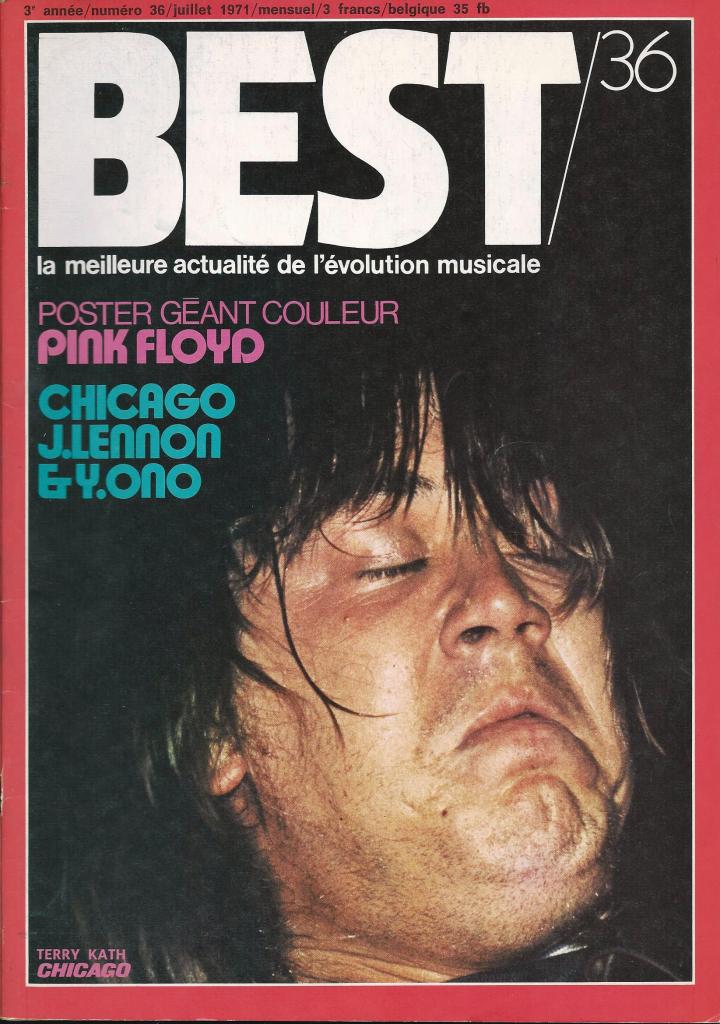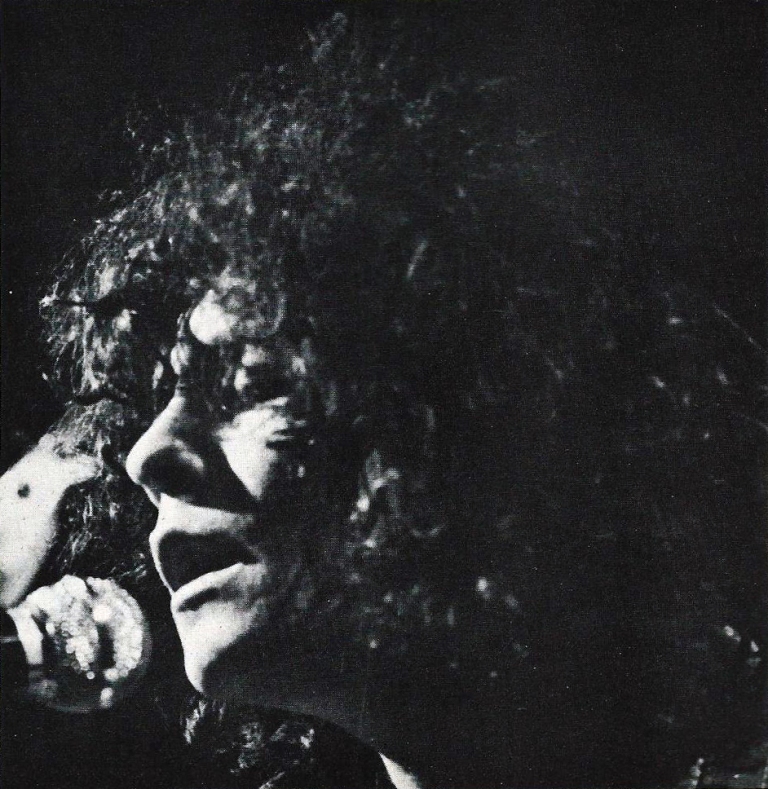 T.REX - Glasqow (or The Price of Fame)
(Friday 21 May 1971, from Cliff McLenehan's book, Bolan: A Chronology).


Famous since they changed their unpronounceable name from Tyrannosaurus Rex to T.Rex, the band - Steve Currie on bass, Mickey Finn on percussion and, of course, Marc Bolan on guitar - were in Glasgow last night.

I was expecting a lot from this concert, being one of their unconditional fans. But as soon as I entered the dusty old cinema that is the Green's Playhouse, I almost had a heart attack.

Can you guess why? A boy, 11 to 12 years old, rushed in my way. Taken by surprise, I nearly fell and broke my bones on the stairs. That was, however, only an introduction to what was still to occur.

Without my specs on my beautiful blue eyes, I sat peacefully, thinking to myself that I had probably just dreamed. Alas and alack, I had made no mistake. First of all, the great majority of the audience were females. (Note: if it were just that, I could not complain) But, in addition, their average age was from 12 to 16 years old, with very rare exceptions. And how excited they were, those trendy chicks! The reason why? First, Marc Bolan is very sexy - at least that's what I was told. And then the band have charted twice in a row: "Ride A White Swan" and "Hot Love"; the latter remained three months on the charts.

Now go back in time to the most beautiful days of Beatlemania and you will have an idea of

​​the atmosphere that reigned in the hall. As soon as Bolan appeared, half of the audience fainted, and the other half climbed on their seats, with their multicolored "hot pants" on display (this being my last euphemism!).

The band started the concert with "Elemental child". Marc Bolan is particularly good at playing wah-wah guitar. Then came a medley including "Ride a White Swan" and "One Inch Rock".

As far as I was able to judge, this was slightly not as good as the recorded version.

Then "Gimme Love", a very nice, funky song; allowing Mickey Finn and Steve Currie to show their great skills as instrumentalists. Then came one of their "old" songs: "Debora". Still as good as the original. This song highlights the very characteristic Bolan voice, sometimes half-rattle, sometimes half-sigh. Then Marc introduces a song he has just written and sings alone, playing his acoustic guitar. You can guess the result: no one heard anything but the din of the chicks in madness. Then their new single, I forgot the title, and I was not able to hear that either.

I started searching for the worst insults in my mind. Another song followed; I think it was "Salamanga Palaganda", but I would not swear. Disgusted, I decided to leave.

Basically, the music is good old Rock and Roll with a very personal touch, mainly made remarkable by Marc Bolan's voice, but also by his guitar playing, and by the percussion. The stage act is limited to a few Bolanic convulsions, which are enough to make the "teenybopper" girls faint.

A few years ago, I was told Tyrannosaurus Rex were playing the same hall. The place was half empty. No amps on stage. And people were listening, and able to hear. (Actually, it must have been only a few months sooner, on Thursday, 3 December 1970, from Cliff McLenehan's book, Bolan: A Chronology). So goodbye Tyrannosaurus Rex...

Claude BELLOIR.

(our correspondent in Glasgow)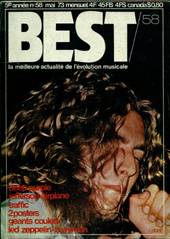 By 1973, French musical press that up to that point had looked at T.Rex with a certain kindness, breaks out and lynches Marc Bolan.
BEST, whose name badly depicts its quality, recruits a hired killer, a second knife, a drudge of crass ignorance. Equipped with a sawn gun pen his words are malicious, bad, vicious, but also... quite naive sometimes.
30 years later... Bolan worldwide ackowledged by musical press, re-reading yourself must be quite painful, Mr Mareska.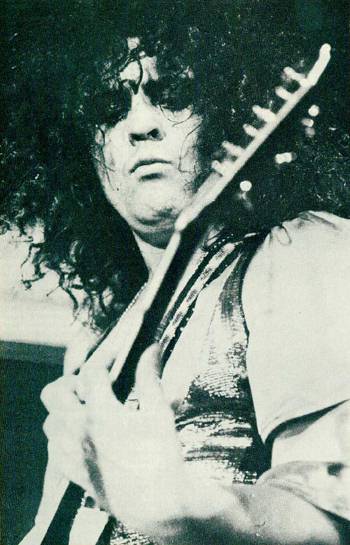 The young man came out of the Madeleine subway station, greeted by a harsh wind, making him shiver from head to toe. Moaning, he fastened his duffel coat, wondering a while, as he hadn't visited this area for ages, and moved towards the bright lights that were illuminating the front of the Olympia. "The Olympia"...This brought back vivid memories of unforgettable concerts such as The Beatles, and later The Stones and the beautiful racket that followed the gig, Le Golf (musical hall ), La Loco (nightclub), The Who, Daltrey with short hair and a leather white and brown striped belt. Shortly after, He even bought the same belt while visiting London. Townshend slaughtering his guitar, Keith Moon looking sorry at the drums he had just ruined a few seconds earlier. The Yardbirds too, Beck leaning on his guitar, his beautiful syphilitic face gleaming under the spot lights, Keith Relf blowing in his harmonica as he were about to die.

The Kinks and their incredible clothes, Dave Dee with his group and their incredible flared trousers which were fashionable then. And The Pretty Things, and The Moody Blues, and all of these bands, now forgotten along with Actions, Creations, Downliner Sect, The Troggs etc.
Passers by who were walking against the harsh wind, turned their heads when saw this bearded tall bean-pole, with his tired step who was singing "With You, I Can't Control Myself.". A girl, with leather mini-coat and high boots, did not even try to approach the hippy. Young people of today aren¹t by any mean her kind of " customers " . For years the hippy had given up with music. Just like he had given up with the external world. Since then, he had been living in a kind of comatose ânanirvana, from which he left sometimes to go down and buy milk, cigarette paper or chocolate . The friends he used to meet in his pad all had the same face, the girls the same body. Only making love still interested him.
This had been going on for so long now that he often wondered if he¹d not been caught in some kafkaïan trap that forced him to repeat the same thousand-year-old gestures, again and again until he¹d died.
And this evening, for a change, he was going for the first time in many years, to a pop-music concert. He has forgotten for long the name of the band he was supposed to see. Nevermind. He was not aware of the music scene anymore. Sometimes, in conversations, he had heard names that sounded new to his ears. Grand Funk, Blade, or Slade, or something of that kind, a David something also, who was usually quoted with respect, Roxy Music, this one he had not forgotten cos their name sounded great, Genesis, and many more.

The ticket, he had been given by a friend who added: "There are chances that it will be a great show, this guy sold more than 20 million discs, you get the picture ? , 20 million". No doubt the hippy got the picture. Inside his head he was trying to figure how much money 20 million discs could mean, where could he put all that records , how many could stand in his room. Finally he arrives in front of the vast illuminated hall.

He noticed photo booths there, in front of which a few people were waiting, one armed bandits, four cops who were quietly talking. Taking the ruffled ticket out of his pocket, he showed it to a Steward , who pointed out to him that he was late. Not minding much, the hippy crosses the narrow passage, climbs two groups of stairs, and enters the darkness and noise. Blindly he¹s able to find a folding seat, sit down and looks at the stage. Today¹s and yesterdays shows have both in common the mediocrity of their first act, he thinks after a few seconds of listening.

On the stage, surrounded by giant amplifiers, a small fat guy was working hard, and drew from his guitar strange sounds.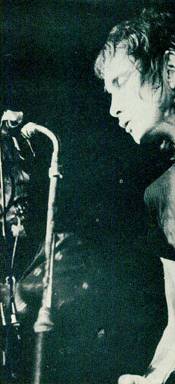 Pleased not to have missed the star, the hippy sat as comfortably as he could and waited. Deep inside, he was pleased he didn't arrive earlier as he wou;ld have had to sit through the entire set the support act played. This set, was threatening to be endless, as between each song , the small gnome, after having awaited the end of the applause, ran his fingers through his black curly hair, and launched out in a long speech, from which one could understand that he was happy being in France, and playing for the Parisian audience, etcŠ etcŠ and a new song started again. The guitarists attitude was a total surprise for the hippy. Crossing the stage with small tight steps, the small gnome stopped sometimes posing, drawing toward the audience his young face, or raising a leg before falling to his knees, then standing painfully a few seconds later.

Beside him, another individual was playing as hard. His long stiff hair, he used to shake constantly in front of three enormous congas, juggling sometimes with a tambourine, or blowing in a whistle. It seems that some complicity existed between the two men, because they often smiled to each others while playing. Behind them two other musicians were standing. A drummer, bad, heavy, like a lumberjack. Never in time, never in place.

And yet, the hippies ears were not used to music for a long time. Also a bass player, of which one couldn't say anything, except that he was the tallest of the group. At this thought the hippy smiles inside. He was appreciating his own humour but was convinced that he was the only one laughing.
Song followed song , the hippy, while still following with a lazy eye the moves of the small gnome in red and yellow, tried to remember the name of the main act. 'At the interval I will give a look at the posters', he thought. It¹s really silly attending a concert and not being aware of the name of the band , especially when you haven't attended a concert for years. He combed his beard with his extremely long nailed fingers, digging his memory, hoping for the end of this horrible opening act , swearing that next time he will look at the posters before entering anywhere.

When the black mop of hair leaned down, while his arm rang a last chord, when the lights spouted out, and the applause died, the hippy remained for a while in his folding seat, astounded. Young people, with hair like Gene Vincent and glitter on the cheeks, were dressing beside him. Guessing that they were awaiting for him to leave his seat to leave the line, he stood and followed the flood. The cool air of the outside struck him in his face. he sought the poster with his eyes and saw the signs painted on the blue banner "T.Rex". So that was T.Rex. He had just seen T.Rex, the man who sold 20 million discs. T.Rex. T.Rex. He burst of laughing. Incredible.

Walking briskly down Daunou Street on the way back home, the subways closed at this late hour, the hippy, his hysterical laughter passed, called himself an idiot . He had mixed up the main act and the opening one. How silly ! He should have understood, instantly : an opening band would never have dared to play so badly and so loud. An hour later, climbing the greasy stairs to his room, he was still laughing.

Jean Mareska.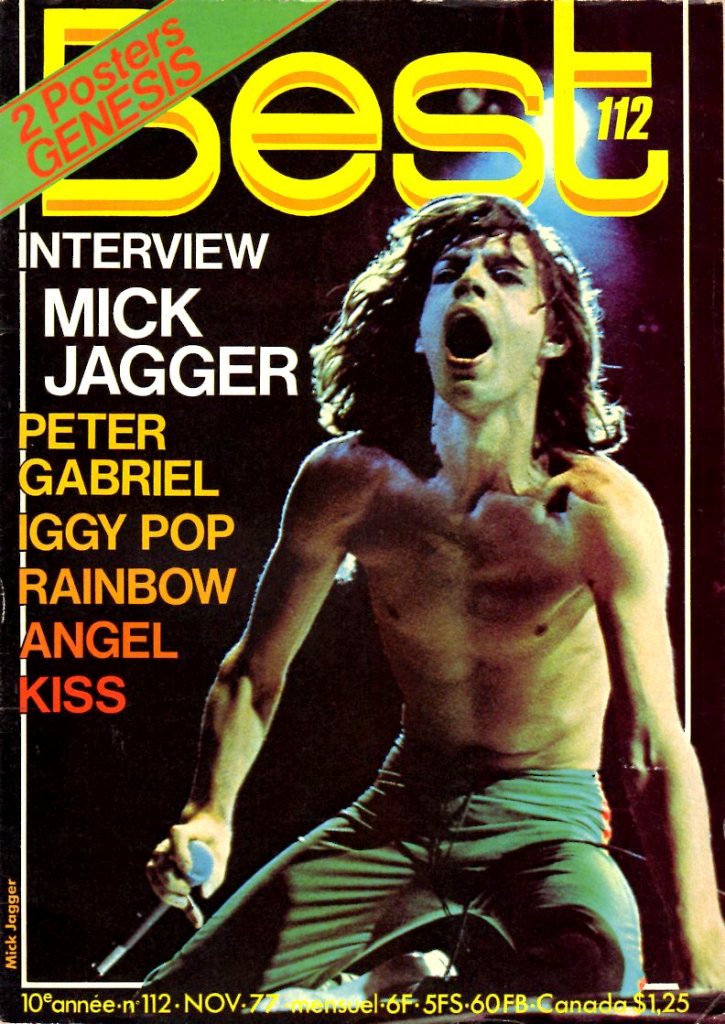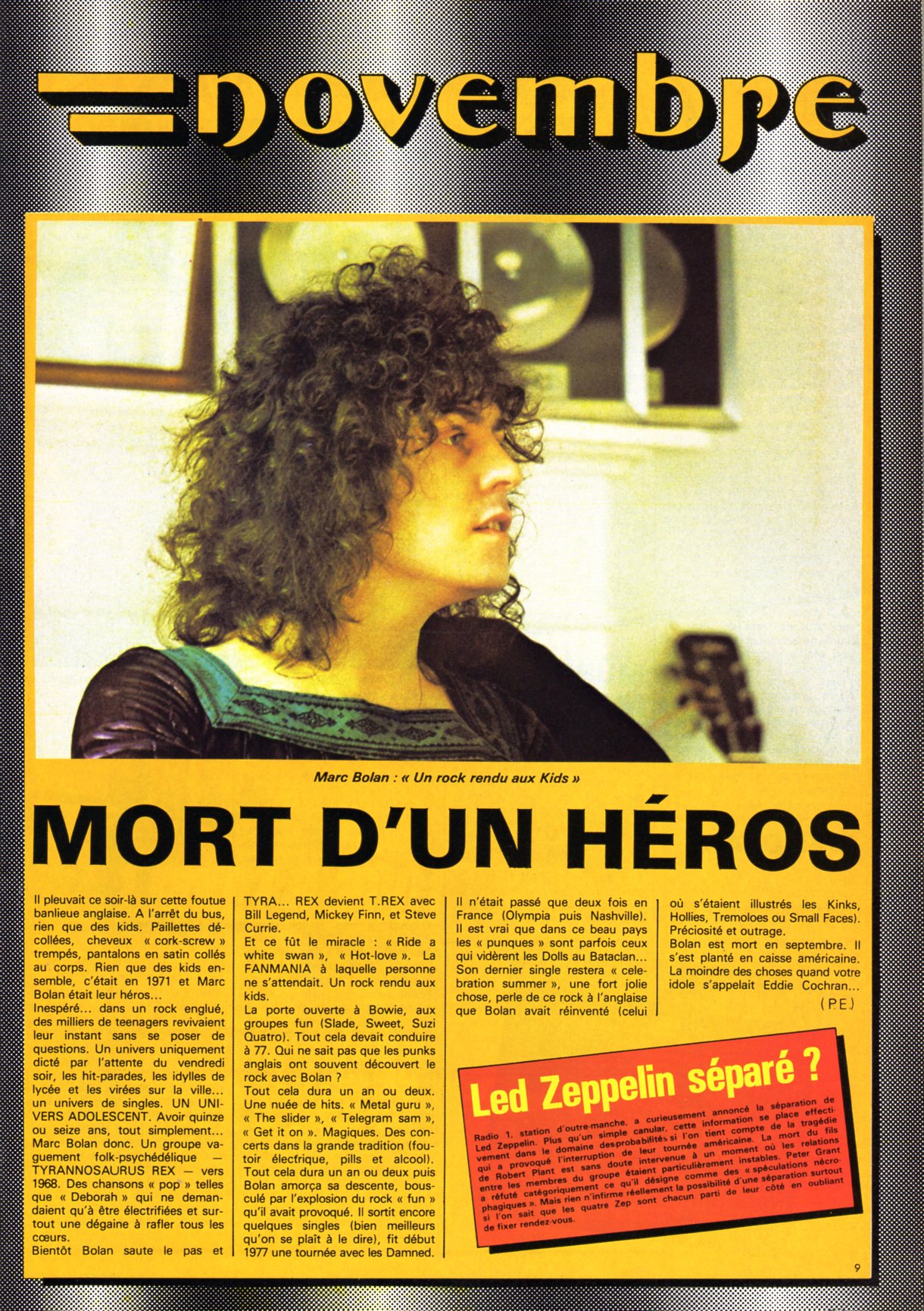 Death Of a Hero

Rock'n'Roll given back to the Kids



It was raining that night in these damned English suburbs. At the bus stop, nothing but kids. Washed sequins, soaked "cork-screw" hair, satin pants sticking to the body. Nothing but kids hanging around together. It was 1971 and their hero was Marc Bolan. Bolan was unexpected - he took over the rock scene when it was stuck. Thousands of teenagers lived their time without questioning. Their universe dictated only by the expectation of Friday nights, music charts, college romances, and trips downtown.
A universe of singles. A TEENAGE UNIVERSE. Being fifteen or sixteen, that was all... So, Marc Bolan, obviously. A vaguely psychedelic folk band, TYRANNOSAURUS REX, around 1968. Pop songs such as "Deborah" that easily could have been electric and, above all, a look that charmed every heart. Soon Bolan evolved and TYRA ... REX became T.REX with Bill Legend, Mickey Finn, and Steve Currie.
And a miracle happened - "Ride a white swan", "Hot Love" - the FANMANIA that nobody expected. Rock'n'Roll given back to the kids.
The door was opened for Bowie, for fun bands (Slade, Sweet, Suzi Ouatro). All this would lead to '77. Who doesn't know that most of the English punks discovered Rock'n'Roll with Bolan?
This time lasted a year or two. A huge sequence of hits. "Metal Guru," "The Slider", "Telegram sam", "Get it On". Magical songs. The concerts were in the great tradition of Rock'n'Roll (electric mess, pills and alcohol).
Then Bolan started descending, jostled by the explosion of the 'fun' rock he had caused. He still released some singles (much better than it is generally said). He toured with the Damned in early '77.
Marc Bolan played only twice in France (Olympia and Nashville). It is true that in this beautiful country "punques (punks)" are sometimes the same who booed the (New York) Dolls out the Bataclan (stage).
Bolan's last ever single will always be "Celebrate Summer" - a very nice song.
This pearl of English rock, that Bolan had reinvented (the same kind that brought fame to the Kinks, The Hollies, The Tremoloes and The Small Faces): preciousness and outrage.
Bolan died in September. He crashed in an American car. A sad but fitting end for an Eddie Cochran fan ...
Quote from BEST magazine's journalist Alain Pons, in the readers mail :
"The death of Elvis Presley did not seem to have moved you much, kids. It moved me. When, leaving home, I read the headline in France-Soir, I thought of Marilyn Monroe. Both died of what they were ... And then Marc Bolan died, in small print in newspapers - and I felt a little older, a little more alone. Not you ? No, not you. Two little words only in the mail, one brief and indirect (about Elvis), the other direct and naive. Both moving." - Alain Pons.
Letter from a reader, Daniel :
"This letter will not be long. It does not initiate any controversy and is not meant to reflect any criticism. It only is meant to emphasize this fact: On September 16 in Barnes, South West London, Marc died, victim of a road accident. It is a crying heart that is writing to you. My pain has never been greater. Thus, this magical prince left us without even having completely fulfilled his dream of being acknowledged. Marc's tragic death bruised me forever. During his lifetime he was controversial. Now that he left behind him a few records and forever upset faithful fans, will he ever regain his place up in the firmament? I can't tell. He was my hope, my magic. He becomes my pain, my tears. Marc, cruel chameleon, you left us. Your throne will now remain empty. A heavy silence ... Yours forever!" - Daniel.