RIGGS O'HARA - THE MISSING LINK TO MARK FELD
Martin Barden has been a well known fan on the Bolan scene for years.
I'm very glad that he allowed me publishing the article that had been previously seen in Record Collector and Rumbling, that tell us about his meeting with the man Marc refered to as 'The Wizard' martinbarden@hotmail.com
I would like to thank George Rab from the bottom of my heart for his assistance in compiling this page.
He provided many pictures of which some were never published before.
Please also read 'The Wizard' by Gavin Ross
Riggs O'Hara is one of the legendary figures from Marc Bolan's early life about whom almost nothing is known. All this changed recently when I came upon his name in a local magazine which was promoting the opening of Riggs' new theatre, housed in a converted Post Office in Ladbroke Grove. A meeting was arranged for Friday 1 August, and shortly before mid-day I was welcomed into the O'Hara apartment by a medium-height, slightly stocky man with a shock of tousled blond hair and a booming mid-Atlantic actor's voice - it was Riggs. For over two hours he looked back over 30 years to a friendship of little over 12 months, but one which was to change radically the life of aspiring star Mark Feld…
This is the full length interview as published in Rumbling #22, an abridged version of which appeared in the September 1997 issue of Record Collector magazine.
---
Have you ever wondered why you haven't been contacted about Marc Bolan before now?

I was quite shocked - I saw a biography and thought why the hell didn't anyone get in touch with me and ask me about it?

We met at a friend's flat. He was visiting this guy whose name I have absolutely forgotten, I turned up there and started to talk about the theatre, and we went out for a cup of tea or whatever. This was around 1964 and his name was Mark Feld, and that's what he was calling himself. Anybody who tells you that they knew him before, this was before that! There wasn't anyone else around. He wasn't a loner but he wasn't with a particular crowd of people and he didn't know a lot of people. Anyone that he met, he met thorough me. It was a period of education for him, of going to theatres and opening his eyes. It's not what I set out to do but it's what he wanted. I don't remember Mark having any friends apart from me. He would never say 'so and so's coming over tonight', or 'can so and so go with us to the theatre', never.

We got on terribly well, he was very sweet with a very dry sense of humour. The lines would come from leftfield and you'd go 'where the hell did you learn to say that?!'

In his notebooks he was signing himself as Marc Riggs at one time - did you know that?

Oh how sweet to think that he thought that much of me, it's wonderful. I never knew that. We more-or-less shared a flat in Lonsdale Road, Barnes. I had an enormous - for those days - flat for something like £12.00 per week, and Jimmy Bolam was living there as well.

When Mark changed his name, I was very proud of the idea that he wanted to change his name to mine, I thought it was a terrific idea and loved it. Jimmy, though, got very offended as he had started the 'Likely Lads' and thought it really outrageous that Mark would take his name, and thought it would take something away from him, so Mark just changed the 'M' to an 'N', as simple as that. Nothing to do with Bob Dylan. Mark didn't take it because he admired Jimmy, he just liked the sound of it. There was never any question that there would be any competition between them, Mark always knew that he was going to be more famous. He couldn't understand why Jimmy was upset, he thought it was absolutely ridi-culous that Jimmy would think he was going to be as big as Mark was. He wasn't having an identity crisis, he was too well adjusted, he was trying to figure out what would be the catchiest name to get him through the door.
---
And Toby Tyler?
I had a letter with that in it. He sent me a picture of Roy Orbison and said 'doesn't he look like Rodney Bewes?', because Rodney Bewes was doing the 'Likely Lads' with Jimmy Bolam.
Sorry I haven't phoned. But I will as soon as I've got good news (recording contract wise) Speak to you soon Marc (or my stage name (he he) Toby Tyler lots of love from whoever I may be x x xx xx xx xx PS I hope you like my poem I am (?can't read the word?) Olgar the Ostrich
Is it Roy Orbison or Rodney Bewes (you may never know) ( Martin Barden's 2001 report of the letter )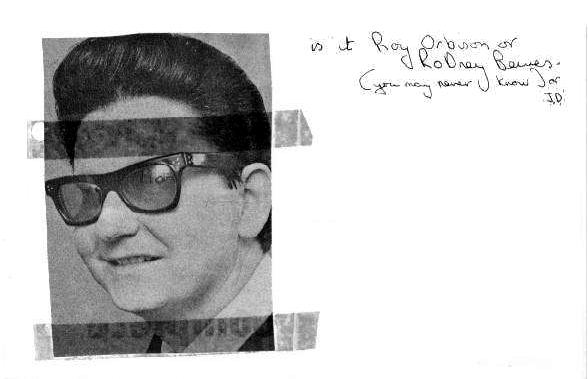 Exhibited at Bolanfest 2000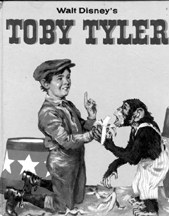 Toby Tyler was a name from a comic book or something. He was just looking for a name that was theatrical.
I guess in those days we had a glamourous lifestyle, decorating the flat dramatically, the hall was painted dark red, curtains with Greek columns painted on them, all leather furniture. We had matching knives and forks and plates and coffee in little cups brought in on trays. It was that whole '60s thing of everyone living glamourously. We were quite regal in our infantile way! This was for over a year. I can't ever remember living any differently whether I had any money or not...
We would hire chauffer-driven Bentleys and go places, it was affordable then and I did it. I always had my own car and flat and ate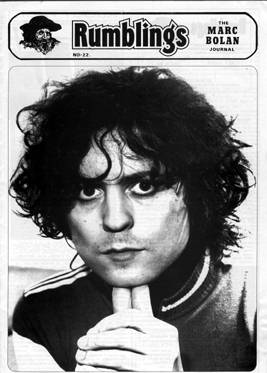 in restaurants and went to first nights. It was a very formative period of his life at 16 and 17... He always left his things at home, but if he found somewhere else to stay for a while, he stayed there.
He had short hair all the time I knew him and he was always smart and well dressed. He never wore jeans or 'trendy' clothes, he always wanted to look properly dressed in tailored clothes. He was like a '40s/'50s boy next door.
If anyone influenced him at this time it was Elvis. That's what he aimed at, that kind of performance style all the time.
Mark was King of the Mods when he was 13 and he got all of those articles about him, and he never forgot the attention. Once he'd seen his picture all over the Evening Standard he had decided. He would have gone any route where a door opened. If an acting or a filming door had opened he would have gone through that. He actually went to an audition for 'Performance' and he did quite well - there was a possibility, you know, although they went with the name [Mick Jagger] in the end. I don't know if he was ever on 'Orlando', but because of his association with me he got involved with what he heard about films and televison being made. But he didn't have an agent and didn't know what agents were. He was really thinking about a manager who was going to handle all of that side of things. But he was much too smart for all that, he was always smart.
I would imagine none of his managers were smart enough to manage him, to push him forward as well as he could push himself. If we'd stayed in touch I probably would have said 'right, you've got to find a show to do on stage, or you've got to find something a bit bigger'. My attitude was always 'you've got to do more'. But he knew that in order to get into acting you had to do a three year drama course, an end of term show, be seen by an agent, get signed up. There was no way he was going to do that. He knew that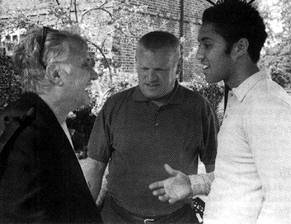 the only thing you needed no qualifications for was the pop industry, none whatsoever.
We were watching 'Top of the Pops' and there was some guy wiggling around with his guitar, and he said 'anybody could do that'. He got up and he did it. He was first a learner, second was any kind of artistic talent. He was self educated in almost every respect, he even taught himself his own accent. He decided one day to teach himself to speak properly, and he did. He never went to school.
One of my best friends was Sandra Caron, whose sister was Alma Cogan, who used to give the parties of her life. You would walk into a party of Alma Cogan's and you'd have the Beatles and the Stones, the Andrews Sisters, Ethel Merman, Peter O'Toole, Sammy Davis Jnr, just everyone you'd ever heard of in one room. Mark never moved on anybody, made a B-line for anybody because he thought they could help him in his career, never.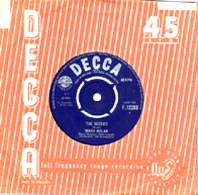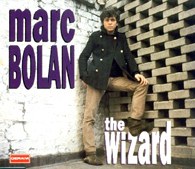 ---
A major part of the Marc Bolan Legend involves the trip you and Mark took to Paris.

It was a long weekend and we did it proud, we did everything. He'd never been to a foreign country, and we did everything, late night crazy clubs with extraordinary elaborate reviews, a boat trip on the Seine, the theatre, the museums, it was his first eye-opening experience and it was jam-packed - we did every single tourist sight as well as every cultural sight, and I'm sure for someone like him it seemed like six months - from the Eiffel Tower to the Louvre to a big musical show. We stayed on the Left Bank on the Rue St. Bernard at the Hotel Montana. It's one of those things that you do for someone who has that kind of brain, and you say 'You gotta see this, I wanna be the one to show this to you.' At that time I was probably showing off that I'd been to Paris, that I knew it, that I had friends there...

He was always very cool - I would never have said that I could actually look at him and recognise that his eyes were out on stalks at the wonder of everything he was seeing. He recorded it, he almost didn't experience it, he recorded, but he had the time of his life.

As for the Wizard - there was only me. The kind of stories that Mark would invent about the Wizard being somebody else was his way of protecting me. He never knew anybody but me in that time.

I remember when I had to go to New York for two weeks, and I left him behind. When I came back it was the first time that I'd ever gotten the feeling that he missed me because he was dependent on me, although it wasn't a dependence that I was aware of. He was practically waiting at the door; he was in the flat because he had a key. It was also the time that I realised that he cared about me, because he wasn't the kind of person who showed how he felt.

Mark didn't pick guys up, he just didn't. If I could say anything about Mark's sexuality, I think that all of his sexual drive was invested in what he wanted to be and do. Second of all there was no way that he was gay, or even I would have thought bisexual. If he went to bed with a man it was because he had some kind of affinity with that person, some kind of understanding, liking, caring, whatever.

He wasn't somebody who went out on that kind of scene. He was never sexually motivated towards men, never. If he happened to feel that way for you, then that was fine, but... I don't know what happened when I stopped seeing him, but I just can't believe it. He never went to gay bars, discos, he never went to anything like that, he just wasn't interested.

He had a tremendous amount of support from his family - mother, father, brother - they supported anything he wanted to do. They never said 'where have you been' and 'you haven't been home for three days' or 'when are you going to get a job?' They accepted all of the changes he would go through.

I had a Triumph Herald and I used to drive him back to Tooting to his family. I met his parents and his brother, really nice caring people. His mother would have championed him whatever he did, anything that he wanted. I was never aware of any opposition from his father. And his brother treated him like he was the little brother with all of these ideas and dreams. Mark would deliberately slip into the old accent every once in a while and I would laugh...

Only one Hotel seems to fit 99% the description :

Hôtel Le Montana, 28 rue St Benoît,
75006 Paris

When I met Mark, Phyllis was working in Berwick Street, and he talked about the '2is' as though he'd been there but it was before his time. We would walk down Old Compton Street and he'd say 'that's where it was', but you know... I think that he invented the myths to go with the invention of the character.

In those days the only places you could go after 11 o'clock were coffee bars and there were only one or two of them. He was more interested in going to the Ad-Lib which was then the only and the first discotheque, and I could get in there as I was friends with people who owned it. You would find everybody you ever dreamed of in this one place, from the leading actors to American pop stars - everyone. There was nowhere else to go.

In the '60s every single day was a discovery. You'd suddenly find late-night places and you would go in and hear Tamla Motown records for the first time ever, because in those days the only access you had to music being produced outside the country was Radio Caroline.

I had a record player in my car - another one of those '60s gimmicks, where you used to slip in the 45s - and I only ever had Tamla Motown in there, and that's where he got it from. I still am mad about them, I'll still go for Martha and the Vandellas over the Spice Girls any day! I always loved that music, I was one of those people who was involved in Rhythm and Blues before Tamla Motown. You wouldn't have known about Tamla Motown at that time hanging around the English scene. I would always say 'nobody can do that' - the way they managed to make those sounds and the openness and using the gospel sounds of their voices to make these pop records. I was mad on Aretha, Gladys Knight... Dusty was another of mine and Mark's favourites, I thought she was the only [non-American] one who could cut it, she was spectacular, fabulous.

I paid for his first demo disc, which I am sure has disappeared. It wasn't with a group, just a small studio, getting something on a tape and I think it cost something like £20.00. I can't remember the song but I don't think he wrote it, and it wasn't 'Blowing in the Wind'.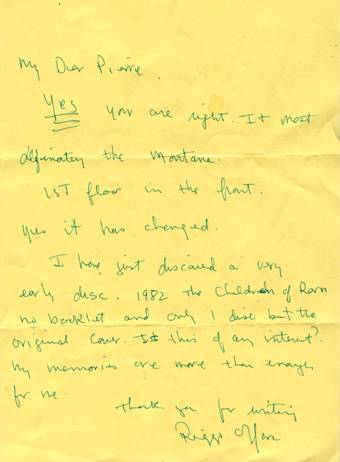 My dear Pierre,
Yes, you are right. It most definately the Montana.
1st floor in the front
Yes, it has changed...
Thank you for writing.
Riggs O'Hara
---
Could it have been 'You're no Good' by Betty Everett?

It might have been. Betty Everett was fabulous - he got that from me. He didn't have the warble in those days, quite a thin voice although he stood right in front of the microphone, and I don't think it was him playing the guitar. It was a smallish room, on the ground floor I think, and just one of those places you rented. There was no producer there, and I didn't know anything about that field. I was a bit snobbish about that sort of thing at that time so I was just pleasing him because that's what he wanted to do. There was nothing in my mind that said this was important or that this was a career, although I knew that was probably the direction he would go in.

But I wasn't interested in the pop industry, I was interested in being a serious actor. I was involved with the Royal Court which was the only thing to be involved with at that time. And also I was so theatrical that he would get Noel Coward, he would get Judy Garland, all that kind of theatrical stuff as well as a basis, as I believed that was what the theatre was about.

I think we went to see something called 'Black' something - a gospel show from America where they were all in robes and singing, and they all did these wonderful gospel songs and we went to see that.

I have to emphasise that there is no way that I take credit for anything that he did and he discovered, but if he was influenced by all those things I am where he got that influence, because that's the kind of music that I played and that was the kind of life that I lived. He was aware from the first that image was more important than talent, he was always aware when he would get up and do those wiggles, and he was a funny kind of awkward mover, it was jerky. I would never have said at that time that that kind of movement was sexy.

He never gave you the feeling as though he was using you or anyone. He wanted to learn, but he didn't pick your brain, he wanted to know everything about the business.

From me he learned about the theatre - I'm not going to take credit for this but anything that was theatrical about his advancement must have come from that period, because his whole image [later] was incredibly theatrical, and he wasn't when I met him.

Folk was very fashionable at the time and he had the little cap and a leather coat.

I bought him a Mongolian Lamb coat with embroidery on the suede and the fur sticking out around the collar, but he was always very neat, he never really liked things that were frilly or fuzzy. When you look at him now in costume he's terribly neat. He was tidy, very precise, always putting everything in its place, never a mess.

When we finally went our separate ways - and there was absolutely no problem about that, none whatsoever - it was just the right time for both of us, no row, no fight or argument, even after that when he would call or keep in touch he would only ever call me if he had good news, he never called and said 'I need help' or 'I'm desperate, I need this or that', never, he only ever called to say 'Oh I've been doing this gig' or 'I've got this demo'...

But he was always going to invent his own style - the rest was his training ground, his learning-through-doing.
---
---
Did you watch his career from a distance having lost touch?

Yes we lost touch because I was back in New York but we never lost faith. Friends of mine would run into him and he would ask how I was. I would always follow how he was doing and was very pleased for him. I would like to be able to say 'proud of him' but it's not a word you can use because he did it himself.

We used to marvel at the degree of his fame, we'd read things in the newspapers [in New York], you'd walk in the Village and see shops called T.Rex, and you'd think 'this is unbelievable.' I was always thrilled for him - he got what he wanted.

It was from getting into my circle of people that he realised what the community of the entertainment industry was like and that he really wanted to be a part of that community. There was nothing devious or obvious about his wanting to know things and learning things, you never felt as though you were having your mind gone over or were being drained or wrung dry, he just absorbed, he would watch.

That period was very important for him: it tipped the balance between sitting at home thinking 'I wish I could do something' to being involved in the community and knowing that it's not just a job, it's a life, and you choose it as a life, and everything you do is motivated around people who are in it and where they go.

He wasn't doing gigs when I knew him so I never saw him play live, and I never bought a record. When I see him on TV I always see the little boy behind the image. I'm always amazed at the professionalism and the style that he invented. When you see him all dressed up like that I just can't help remembering the little boy with the short hair who said he wanted to be a pop star.

Did anybody ever find a little green statue of Pan? I bought it for him at Camden Market. After we'd gone our separate ways we got together and went down to Camden Market and there was a shop right on the corner of the market and there was this little statue. He said 'I like that' and I bought it for him

I have no doubt that he would have gone into films. I think he got caught up in this pop thing, and I don't think there was anyone around him at that particular time who thought about anything other than the pop industry. He was only 'unmanageable' because these managers wanted more of what was selling. There was no manager who was saying 'why don't you try this, why don't you try that.' He was acting an image as Marc Bolan, but could he have acted? Who can't! Mark, knowing me and my circle of people, there would have been no way that I wouldn't have read a script he was offered and said 'this is crap' or 'this is not crap', or I'd have handed it to people that I knew who were successful in the business to say 'have a read of this'. There is no way that I wouldn't have helped him through every single ounce of his performance - without the director knowing - that he would have come home and I would take care of all that. It's just that there are not many people around like that. The person I knew was no trouble at all. If he became trouble later it was because there was nobody around him to take the pressure off, nobody around him who had any ideas bigger than his.

He ran into my friend Sandra years later at Apple when he was friends with Ringo Starr and he saw Sandra come in, and the first thing he said to her was 'Where am I [Riggs] and how am I?' I was in New York - I went back at the beginning of the '70s for 10 years. Mark's peverse way of saying that Elvis never came to the UK was not to make it in the States!

He was never money orientated, he was more motivated by work. He knew you had to keep moving. I didn't know that he'd lived in the States. I would have thought he'd have hated living in California. He was a Londoner, he'd have been happier in New York.

Aside from that day when he decided that he should leave, the day when we went to Camden Market and bought that statue was the last time I spoke to him. I heard about the accident pretty much when it happened because there were a lot of people that knew that I knew him so they immediately got on and said 'Hey have you heard?' I don't know any of the tragic side of his life - I never saw that in him, never saw the pain. I never saw that when I knew him. He had enthusiasm and energy and the will to succeed, he never had any problems or pain, he never wanted for anything.

I find it so extraordinary that those days had so much influence on him. What I regret more than anything else is that in his down periods he never phoned, but he was not that kind of boy. If he'd have called me when he was going through a rough patch I would have been there in a shot and I'd have sorted it out. He just wouldn't call me with bad news but I wish he had.

It's so hard when you hear things about someone that you knew so well at that time, but I can only tell you what I saw and what I knew, and all of the myth that has grown up, he invented that myth.

I find it so difficult to believe that he was into drugs - I can only say that it must have been because of the pressure and tension of having achieved what he set out to achieve, and it wasn't enough and there wasn't anybody to kick him up the rear and say, 'Try for this play, try for this movie'. With Pop stars, when they're kids all they want is a number one record, when they get a number one record they want a number one album, and the rest of their life is trying to repeat their original success.

He always knew that I felt that the pop industry was beneath me! I was that much of a theatre snob. I was musical comedy trained and then I decided I wanted to be a straight actor, and theatrical converts are the worst sort of people in the world! West End musicals were beneath me and I only wanted to be in serious dramas that changed people's lives, and it's taken me all my life to get to the point where I have now a building where I am actually doing things that are involved in that.

My complete image of Mark from what I've seen after he became famous was that it was theatrical. Other people can put serious philisophical interpretations onto it; as far as he was concerned it was theatrical. All the time he was around me we hung out with theatre people, not musicians. I took him everywhere I went.

I wish more than anything else, when he was feeling low that he had called. I could have gotten him into another world, a world where they didn't know anything about T.Rex but took him on the fact that he wanted to be somebody, that he had a certain following and the backing, and that he had talent and drive.

Theatricality was not a natural instinct to him, success was. He could never have lived a mundane existence. Had he lived he'd probably be the most successful record producer in the world and he would probably not even regret not performing any more. He might have written songs or scores for movies. I can't see him making a 50-fat comeback. I can't see him doing that. I think he was too smart for that, he always knew about exclusivity, not giving them too much, about spinning a yarn rather than telling the truth. He was not a hunter, not a sexual hunter. He knew what he wanted, there was never anything opportunistic about him, it was a question of him being an autodidact, he was self-taught so he went where there were things being taught that he didn't know. And he learnt. Å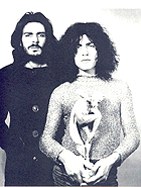 ---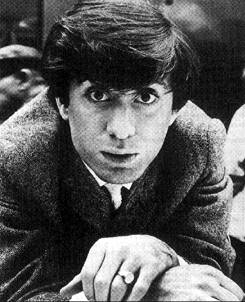 Riggs O'Hara's play 'Noel Coward in Poland' was performed in August as part of the Portobello Arts Festival. He was also a special guest at the PRS ceremony on 15 September 1997, where he was re-united with Harry Feld for the first time in three decades. Interview by Martin Barden Ó 8/97. No reproduction without written permission.
see the same page in French
main menu , records , concerts , TV appearances , Recordings , Films & Videos , Press reviews & pictures , Covers & Tributes , Useful Links
---
© Pierre Champion 2001